Read the two paragraphs below on ways to save money while travelling. Look at the context to help you work out what the metaphors highlighted in bold mean. Write your answers in the table below.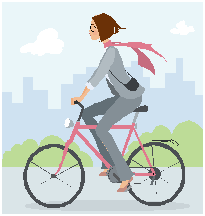 Scrimp, save and

stretch your budget
http://www.lonelyplanet.com/asia/travel-tips-and-articles/65175
Reprinted with permission from the Lonely Plant 09-May-2012
Pedal power
A life on the road, the wind in your hair: we're not talking expensive, carbon-
unfriendly
*convertibles, but the glorious pushbike. Pedalling yourself, you can explore the countryside as a
free spirit
, with minimum environmental impact. Do it
on a shoestring
and stay at camps or hostels, or sign up for a group ride, where the camaraderie comes free and you also get mechanical and organisational help. A self-guided tour is a way to go alone without having to organise a thing, or you can meet
kindred spirits
through online cycling hospitality groups – whose members offer each other beds for the night (basically
couch-surfing
).
* Cars that have a rooftop that can be folded down or removed.
Metaphors
Meaning
Stretch your budget
Answer :

Manage with limited finances

Unfriendly
Answer :

Not good for the environment

Free-spirit
Answer :

Independent person

On a shoestring
Answer :

Very limited financial resources

Kindred spirits
Answer :

People whose interests or attitudes are similar to your own

Couch-surfing
Answer :

Sleeping on someone else's couch/sofa while travelling
---
Get more bang for your buck
Depending on where you're coming from, your money will probably last longest in Asia, in what happens to be among the most exciting continents to explore – try Bangladesh, Cambodia, Laos or India.
Keep your eye on
exchange rates and plump for countries that are more affordable at the time of travel. Whichever destination(s) you end up deciding upon, you can
clamp down on
costs by avoiding big cities and
sticking to
smaller places, where there are also fewer opportunities to
blow your cash
.
Metaphors
Meaning
Get more bang for your buck
Answer :

Get more value for your money

Keep your eye on
Answer :

Watch closely or carefully

Clamp down on
Answer :

Be strict about

Stick to
Answer :

Stay in/keep to

Blow your cash
Answer :

Spend all your money
---