"We spend a lot of time scouring the world for spares," admitted Mr Vine-Lott. "Getting tape is awkward. You can buy a hard drive for £100 - you could record 96 tracks on that. Or you can spend £250 on a 10.5in (26.7cm) diameter tape - you get about 15 minutes." It's not just the preferred option of the studio engineers.
Knob appeal
"Clients like the sound of tape on some things," said Mr Vine-Lott. "Sometimes we bounce off it just to get the tape sound."
Musician John Maxwell-Hobbs, musician and former producer/director at The Kitchen studios in New York, believes the appeal of older equipment is that it is so much more tactile than a touch screen or a computer keyboard. "To be able to grab hold of handles or knobs on a mixing desk you don't even have to look at them, you know where they are," he said. "Rewinding a tape, you can physically see how much tape there is left... we are tactiley orientated. "Electronic drum kits still sell because of their physical appeal, he added. "Every music shop has them, it's because it feels good to be bashing at something," he said.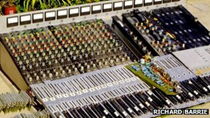 The mixing desk used to make Tubular Bells was discovered in disrepair in a barn