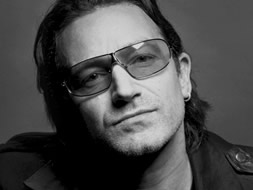 Paul David Hewson KBE (born 1960), known by his stage name Bono, is an Irish singer, musician, venture capitalist and humanitarian best known for being the main vocalist and lyricist of the Dublin-based rock band U2. Bono, the lead singer of U2, spent several weeks in Ethiopia helping with a famine relief project in 1985. The experience shocked him and he began to use his celebrity to fight for social justice worldwide: to end hunger, poverty and disease, especially in Africa.
He has been nominated for the Nobel Peace Prize, was granted an honorary knighthood by Queen Elizabeth II of the United Kingdom, and, with Bill and Melinda Gates, was named
Time
Person of the Year in 2005, among other awards and nominations,
Time
magazine ranked him at the 8th place on its list of the "Most Influential Celebrities" in 2013; he was the only person from the music industry in the Top 10.
In this exercise, you will watch a video excerpt in which Bono talks about how the sharing of facts and the use of technology can bring poverty to an end.
Vocabulary in context
Read the following words and guess what they may possibly mean. Then watch the video and complete this matching task by referring to the context of the video.




---
Synonym
You can improve your memory of a word by associating it with its synonyms. A synonym is a word that has the same, or nearly the same meaning as another word.

In the exercise below, three synonyms are provided for each bolded word in the following sentences taken from the talk. Watch the video again and observe how these words are used in a larger context. Select the synonym that best fits that context. Consult a dictionary when necessary.




---
Using Vocabulary
Complete the following sentences using the words in the box.
1. jeopardy
2. obstacle
3. entrepreneurs
4. clichéd
5. impoverished
6. rough
7. semblance
8. virtuous
9. contagious
10. Transparency
---